And the Grinch, with his Grinch-feet ice cold in the snow,
stood puzzling and puzzling, how could it be so? It came without ribbons. It came without tags. It came without packages, boxes or bags. And he puzzled and puzzled 'till his puzzler was sore. Then the Grinch thought of something he hadn't before. What if Christmas, he thought, doesn't come from a store. What if Christmas, perhaps, means a little bit more.
― Dr. Seuss, How the Grinch Stole Christmas!
The Grinch has certainly been coming around my neighborhood this Christmas! My friend's van was stolen right out of their driveway this week. My aunt's brother's car was broken into during a rash of car break-ins on their street. There have been multiple reports of mail being stolen right out of the boxes this month. Social media shows video after video of delivery drivers scanning in packages on front porches and then taking those packages back home with them. Porch thieves are prevalent. And video surveillance camera sales are up. 'Tis the season…
I just have to take a step back here and ask our community, is that what Christmas means to you? I understand that this has been a tough year–no one is immune from the hurt and pain that have resulted from the pandemic, political unrest, and rioting. Millions are jobless or were jobless at some point this year. I read a news story just this morning about a family who is trying to decide between buying Christmas presents for their family or paying their bills. In fact, they just throw the bills up in the air and pick a few of them to pay. Things are tight.
But it seems to me that we've lost sight of what Christmas really means. Parents are desperate to provide their children with so many presents that they have left their morals on the side of the road and are taking from their neighbors! Have we truly gotten that far off-track?
For to us a child is born, to us a son is given; and the government shall be upon his shoulder, and his name shall be called Wonderful Counselor, Mighty God, Everlasting Father, Prince of Peace. Of the increase of his government and of peace there will be no end, on the throne of David and over his kingdom, to establish it and to uphold it with justice and with righteousness from this time forth and forevermore. The zeal of the Lord of hosts will do this (Isa. 9:6-7).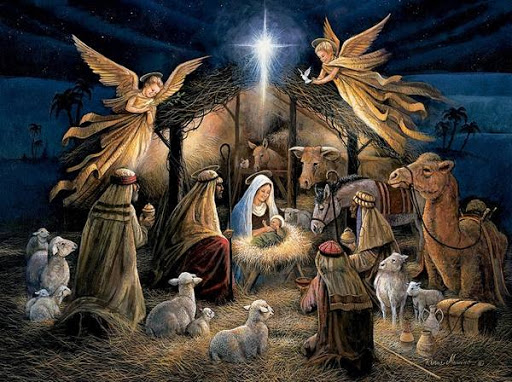 We have all been given a gift–the most wonderful, priceless gift in the world. Yet we don't appreciate Him. We don't want this gift. We want things that will tarnish and break, tear and go out of style. We want bobbles and bling–things that mean nothing. If any lesson should be learned from this year, it's that none of us knows if we have tomorrow. And if we don't, what do these things matter?
We lost my father-in-law this year. Some friends lost their seven-year-old son. Another family said goodbye to their mother. A local teenager was killed. Relationships have been lost. Homes have been foreclosed. Jobs have been eliminated. And still, we don't learn. Still, we yearn for the things that don't last and sacrifice what is eternal. What matters.
Perhaps 2020 was meant to be a reset for us. Perhaps what we saw for evil, "God meant for good" (Gen. 50:20).
That first Christmas–the one we claim to be celebrating and remembering–was as simple as it could get. The King had finally come–the One Who would save the world.
It was a time of unrest. People were being forced to pay taxes they couldn't afford. The pharaoh was bearing down hard on the people. And they had no idea that Hope had come. In a stone stable. Just Mary, Joseph, and the King of kings. And a few animals. There was no Christmas parade. No Christmas tree. Mary didn't even have anyone deliver meals to her or throw her a baby shower. The wise men wouldn't be showing up with their gifts for a couple of years yet. There were just some dirty, smelly shepherds. And the angels sang.
Looking back at 2020, I can see something beautiful from all that we lost. I can feel my heart longing for home again–where my Heavenly Father is waiting for me. I feel Hope being renewed.
Christmas isn't about boxes and bags. It's not about ribbons and bows. If your children have nothing to open this year, they won't be the worse for it. Perhaps they will be able to appreciate the things they do have. We live in an entitled world, where our children are so overwhelmed by stuff that they no longer know how to be thankful. Somewhere, we lost our way.
What will be the worst thing to happen if your child doesn't get presents this year? There are children without homes. There are children without food. There are children sleeping in a car tonight. And we are each one step closer to being there ourselves.
So, what do we do? Continue stealing from one another just to make our kids happy? Or do we start loving each other again? Do we start joining hands as a community and helping one another?
We might not be able to get together with extended family, but there must be someone who needs you. Even if it's just your kids. Make cookies together. Play games. Watch Christmas movies. Decorate like you've never decorated before. Eat the "roast beast" or have PB&J. Clean up your neighborhood. Check on your neighbors.
Celebrate! Hope is here–God is with us! He came in flesh to die for our sins, so that COVID (or any other disease) can't win because death is conquered. We have life in Him.
This is Christmas:
Behold, the virgin shall conceive and bear a son, and they shall call his name Immanuel" (which means, God with us) (Matt. 1:23).